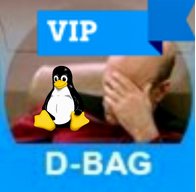 Last Activity
Mar 25, 2021
3,772
Messages
4,082
Likes Received
0
Experience Points
Awards
3

whodatboi
KitKat
"Just Me Status. WHODATBOI IS CHANGING THE WORLD! Well forum, but ya get the point!"
Jun 2, 2017
There are no messages on whodatboi's profile yet.

Loading...

Loading...

Loading...

Interact

Signature

Linux Users Click Here If You Think You Are A D-Bag Click Here

Currently Assuming Role As D-Bag Prez. Sill Awaiting The Official OK.

Self Proclaimed Most Valuable D-Bag (Hence The VIP And D-Bag Badge)

-- DATBOI

​

Loading...